DEVELOPING TECHNOLOGY FOR WE-NET
The WE-NET project is a long-range comprehensive plan, devided into three phases extending over a 28-year period from 1993 to 2020. NEDO is researching and developing hydrogen energy technologies in a joint industry-government-university effort, aiming at worldwide deployment by the year 2030. Phase I started in 1993 with the aim of establishing a wide range of basic technologies related to hydrogen production, transportation, storage, and utilization. In Phase III, practical technology will be developed and pilot plants will be constructed on an international scale in order to deploy the system for actual use.
TECNICAL DEVELOPMENT FOR HYDROGEN PRODUCTION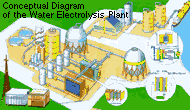 The WE-NET project has selected Solid Polymer Electrolyte Membrance Water Electrolysis (SPE) as the process for hydrogen production. SPE is ecpected to attain a higher current density and a higher estimated energy efficiency, over 90%, compared to Alkaline Water Electrolysis at the current commercial level. Since the SPE process is still in the basic research stage, technology must be developed for increasing its scale and lengthning its life.
TECNICAL DEVELOPMENT FOR HYDROGEN LIQUEFACTION
Hydrogen can be transported in a number of forms, including in chemical mediums such as methanol, ammonia, and so on. In the plan for Phase I, technology necessary for conducting hydrogen liquefaction will be included in the basic technology to be established. Hydrogen liquefaction technology development will consist of system optimization, a large-scale comprssor, and a large-scale expansion turbine.
TECNICAL DEVELOPMENT FOR HYDROGEN TRANSPORTATION AND STORAGE
In Pahse I, a hydrogen tanker for transportation, a storage system, various related machinery and equipment (pumps, piping, valves and so on) for liquid hydrogen, and metal hydride alloys to be used in distributed storage and transportation facilities will be researched and reviewed. Based on the above research, information concerning the transportation and storage of liquid hydrogen will be gathered. Structural material will be developed to withstand the extremely low temperature of liquid-hydrogen (-253C).
DEVELOPMENT OF A HYDROGEN COMBUSTION TURBINE
The hydrogen combustion turbine is an extremely clean system for the environment. The system does not emit carbon dioxide, sulfur oxide or nitrogen oxide at all because the combustion process only uses hydrogen and oxygen. The energy efficiency of a hydrogen combustion turbine is expected to be 60%, even with a temperature of 1200C at the entrance of the turbine, because there is no exhaust gas and therefore no exhaust gas loss. Concerning the hydrogen combustion turbine, in Phase I NEDO will investigate 1) system optimization, 2) combustion control technology, 3) major components (turbine blade, rotor), 4) major auxiliaries and 5) super-high temperature materials. These research results will eventually be applied to a hydrogen combustion turbine at a pilot plant.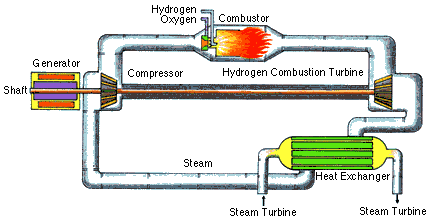 Conceptual Model of Hydrogen Combustion Turbine
---